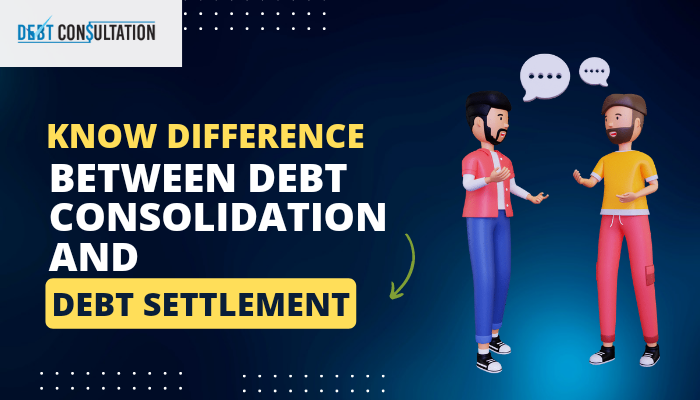 Debt consolidation involves taking out a new loan, whereas debt settlement involves negotiating with your creditors.
Both are not the same, the difference between debt consolidation and debt settlement in USA you can be found in different situations. Both have different benefits and risks, whereas useful in different situations.
In this blog, Debt Consultation describes the differences between these two and what are their pros and cons of both debt consolidation and debt settlement.
The advantages and disadvantages of debt settlement and debt consolidation differ, particularly in terms of how long it will take to pay off your obligations and how it will affect your credit score. Both can assist you in saving money and accelerating debt repayment when used appropriately.
So which will you choose?
What Are The Difference Between Debt Consolidation And Debt Settlement In USA?
Both debt consolidation and debt settlement are approaches for managing debt, but they each have distinct advantages and disadvantages. By consolidating your debt, you'll have fewer creditors to pay.
What Is Debt Settlement?
It is a form of debt forgiveness where the creditors can allow the debtor to pay a part of the amount that they actually owe. However, it can damage your credit score and appear on your credit reports for up to seven years.
You can't be sure about creditors will agree to settle your debts, they may choose to sue you for repayment. If your forgiven payment is successful then the forgiven amounts can become taxable income. In the end, you need to pay taxes on the amount that is forgiven.
If you are aware of all terms and conditions then you can manage on your own or else you can take the help of top debt settlement companies in USA.
How Does Debt Settlement Work?
Once you hire one of the top debt settlement companies in USA then the process will be:
- Research debt settlement companies
- Choose the best debt settlement program as per your needs.
- A debt counsellor will work with you to start a plan of action.
- Make agreed-upon monthly payments to a dedicated account.
- When in a dedicated account the balance comes to a certain level, the debt settlement company will ask for your approval. If you agree then the company will try to settle the debt with the dedicated account.
- Make your deposits continue to your dedicated account until all the enrolled debts go through negotiations.
Negotiating Your Own Debt Settlement
Before finding the difference between debt consolidation and debt settlement in USA, first, find out details about a debt settlement negotiation. How to settle on your own:
- Save your money eventually and offer it as a lump-sum payment.
- Negotiate your payment as a settlement amount. Start with a low offer.
- Request an update on your credit report. Ask the creditor to update your account status to paid in full.
- Request documentation outlining how the creditor or debt collector will update your credit reports.
- Send a traceable payment form that is not linked to your personal accounts.
Debt Settlement Pros and Cons
Pros of Debt Settlement:
Less debt settlement than what you owe.
Prohibit yourself over time from spending a fortune in interest.
Get out of debt within 2 to 4 years.
Let your accounts be under control by avoiding a bankruptcy filing.
Cons of Debt Settlement:
In between or after the debt settlement process, your credit score will likely take a hit.
When a debt is settled, you have to pay a fee between 15 and 25 percent of the settled amount.
The forgiven debt could be liable for federal income tax.
There is a possibility that your lender or creditor may not agree to your offer.
When Debt Settlement Makes Sense
Debt settlement can be risky and complex. There's frequently a better option, but if you believe you've tried everything else, debt settlement can be a possibility:
You're out of options. If your credit is less than ideal, you don't want to apply for any more loans, and you aren't eligible for a balance transfer credit card or loan with a lower interest rate, you might want to think about debt settlement.
You don't want to declare bankruptcy. Debt settlement may be an option if you are unable to file for bankruptcy or have obligations that cannot be discharged in bankruptcy.
You're willing to let your credit score suffer. You could choose debt settlement if your bills have gotten so overwhelming and stressful that you are willing to take the chance of damaging your credit report by being late on payments.
Now switch to debt consolidation before considering the difference between debt consolidation and debt settlement in USA.
What Exactly is Debt Consolidation?
It is the new debt product that helps to pay off your existing debts. The repayment process here is like you have to make one monthly payment. To get out of debt faster, many consumers use debt consolidation loans and balance transfer credit cards.
These loans are mostly offered by traditional banks, online lenders or credit unions. As these are unsecured debt products, you will get them at lower interest rates in comparison to credit cards.
How Does Debt Consolidation Work?
Depending on your credit rating, you can look for different options. Make sure to compare all options' rates and fees.
Keep in mind that loans generally offer much lower interest rates than credit cards.
The top debt relief companies in the United States or creditors have different application requirements. However, some offer a quote-based snapshot of your credit, debts and income, without affecting your credit score.
There are some lenders, who can let you have the loan funds sent directly to your old creditors. If you are using a balance transfer credit card, need to manually pay off your debts once your new account is open.
Always keep in mind that debt consolidation does not go to remove your debt, it only restructures it.
Debt Consolidation Pros and Cons
Consider the benefits and drawbacks of debt consolidation before considering it.
Pros of Debt Consolidation:
Save hundreds or thousands of dollars in interest by lowering your monthly payments.
You won't have to pay several creditors each month as it is going to be easier to manage your debt.
If your utilisation ratio will likely increase, it will increase your credit score.
Cons of Debt Consolidation:
If you have less than perfect credit then you may not qualify for a more competitive interest rate.
If you consolidate your credit cards and continue to swipe away for new purchases to acquire more debt.
Difference Between Debt Relief And Debt Consolidation In USA: How Do They Differ?
If you get a debt consolidation loan, you will likely pay a loan origination fee. Whereas top debt settlement companies in USA usually charge a flat fee to settle each time a debt is settled.
Both debt consolidation and debt settlement have pros and cons, but the best fit for you depends on your financial situation and debt management goals.
When Do You Find Debt Consolidation A Good Idea?
Debt consolidation is best for those consumers with good or excellent credit who can afford to make monthly payments for their debt.
Here you need to qualify for a strong credit score for a loan with an interest rate lower than what you are currently paying. If you want to ensure you can make the monthly payments on the debt consolidation product you select.
When Do You Find Debt Settlement A Good Idea?
If you are contemplating bankruptcy then you will gain more benefits for your debt settlement. It will even benefit you if you are struggling to stay afloat financially.
However, there are chances your creditors and lenders could reject settlement offers, You will have a chance at getting your debts resolved for far less than what you owe.
How To Consider Which One Is Better?
If you are considering the best way to manage debts., then you may be weighing debt consolidation over debt management. Both choices are depending on the specifics of your financial situation.
If you want to make your monthly payments more manageable for your budget, consolidating debts into a single loan may be a better option. Keep in mind that you need good credit to qualify in debt consolidation if you will go for the lowest rates on personal loans.
If you are already behind on payments for one or more debts, and your creditors are threatening you then you might consider debt settlement instead. It is always wise to arrange cash and make settlement payments because it is going to be less damaging financially than filing for bankruptcy protection.
Both the options are available in Debt Consultation. If you are still confused which one to consider, then take an appointment with Debt Consultation experts and get the favourable answer.
---