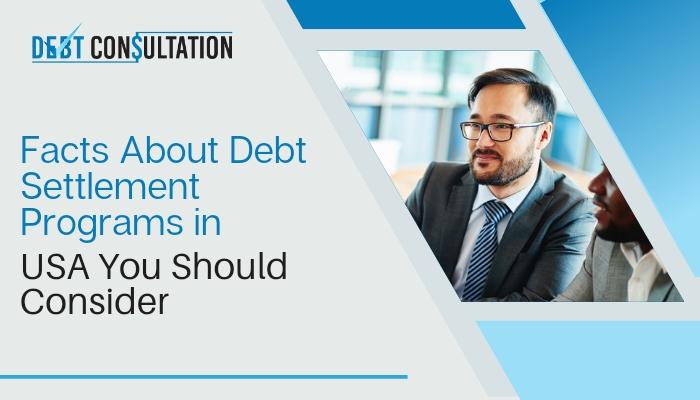 When you are selecting the debt settlement option then one question definitely arises in your mind: how long does it take to finish? What are debt settlement & debt relief services in USA? However, in an actual sense, there is no definite answer to this question.
To settle your debt many things matter. First, it depends on what debt settlement programs in USA you are choosing and the second thing is the settlement is depending upon your situation.
In this blog post, Debt Consultation in USA is discussing what goes into a debt settlement, what is debt relief & consolidation program in USA, how long the average settlement process takes and facts about debt settlement programs.
If you are wondering how long it takes to pay off debt, then choose the right debt relief company, who can help you figure out a plan. Mostly a debt settlement program in USA takes 18-48 months, depending upon your circumstances.
The length of the program on each individual counts here. what is the type of debt you are facing, who are your creditors and how much of the monthly payment you can afford, everything Debt consultation in USA includes within its plan.
All about your debt
To calculate how long your debt settlement program in USA process will go, you need to first know how much debt you have owned. If you carry high balances, owed to multiple creditors, then it will impact the debt settlement program & how it works. Nobody can promise you that a debt settlement can erase all your debts, but
Resolving debts for less than the total balance of what you owe
It can simplify your monthly payments
It can help in avoiding filing for bankruptcy
Types of Debt you may have
There are a few types of debt that you should consider before searching for a debt settlement program in USA.
Unsecured Debt
This debt has no collateral backing, therefore security is not needed here. When the consumer does not pay back, then the lender has to initiate legal proceedings to get the money back or agree to a settlement to recoup some of their losses. The debts that come under this category are
Credit cards
Personal loan
Medical bills
Student loans
Secured Debts
In secured debts, the borrower must up an asset to serve as collateral to qualify. Here the lender has the right to take the asset from the defaulter to repay the loans. The types of secured debts are:
Mortgages
Car loans
Certain personal loans
Do you know your creditors?
Mostly unsecured debt creditors allow settling the debt as they know they will recover at least a portion of what is owed rather than losing entirely. But it is a fact that not all creditors are open to debt settlement. Here the role of Debt consultation enters. We tried our best to make a win-win situation. The borrower experiences a portion of debt forgiveness and the lender recovers a portion of what is owed.
Facts about debt settlement program in USA
"Pennies on the dollar" can be more money
According to American Fair Credit Council, the agreement average quantum is 48% of the balance owed.However, you would get out of debt for fifty cents, If you owed a bone
You have to pay a hefty sum to get out of debt. The more you owe, the more money you need to settle the debts.
End up making yearly payments for over to 4 times
The debt settlement program in USA still requires money to make agreement offers. Creditors and collectors wo n't forgive your balances and get nothing in return; you must pay them commodities. So, you need to induce money for a settlement.
Credit settlement still hurts your credit score in USA
After settlement, the account status should show" settled in Full" rather than" Paid in full". But it stays on your credit report for seven times from the date of final discharge. This memorandum is still a negative mark on your credit history. It's surely possible to rebuild your credit, but you want to limit the damage whenever possible as you exclude your debt.
Settlement works best if your debts are with third-party collectors
If your debts are still with the original creditor. You may end up paying up to 80% of what you pay. Still, with a debt collector, they bought your debt from the original creditor for a small chance of what you actually owed.
The other reason you want the utmost of your debts to be in collections is to avoid fresh credit damage. On the other hand, if your debts are formerly in collections, the credit damage is formally done. You want to get collection debts discharged as snappily as possible, so you can get the recovery and rebuild your credit briskly.
Need not pay freights until your debts are settled
A debt settlement company cannot charge you any fees until they 've officially settled at least one of your debts. So, you should n't need to pay any setup or yearly administration fees on a debt settlement program in USA.
Settlement fees are high in comparison to other debt- relief options
The way that figure structures tend to work with accredited debt agreement companies is that you pay a chance of the debt that was settled. This means fees generally range up to thousands of bones, depending on how much you owe. Settlement fees are generally high compared with other results.
Older debts get lower reason to settle
Every state has an enactment of limitations on how long a debt collector has to sue you in civil court to force prepayment of a debt. The maximum bills are 10 times. So, anyhow of where you live, there's no further than a 10- time window where a collector can take you to court to collect on a debt.
As debts get closer to the statute of limitations, collectors will take what they can get
As debt gets near to that enactment, the collector will be willing to take what they can get. So, you can get out of debt for a lower chance of what you owe as the timepiece runs out.
How important debt can you pay per month?
A debt settlement company can relieve you from debt stress by working with creditors to develop a strategy to pay back the money you owe a debt that doesn't keep you floundering to get out of debt. Your question answer is hidden within you only.
What it boils down to is how much money you can go to put away yearly to pay down debt. The money you put in the designated reserve account is used to pay off your settled debts once you reach an amount that can be effectively leveraged for the negotiation with creditors. A debt discussion company negotiated with each creditor collectively to gain a lower lump sum amount.
Debt Consultation in USA can help you
Did debt let you off track in life? Don't worry Debt Consultation is here to get you back on track. Deb Consultation can help you to save money by resolving your debts for less than the full amount you owe and in a shorter time than most other debt settlement program in USA.
It is our team's promise to negotiate your debts for you and to continue supporting you through your debt settlement journey.
---