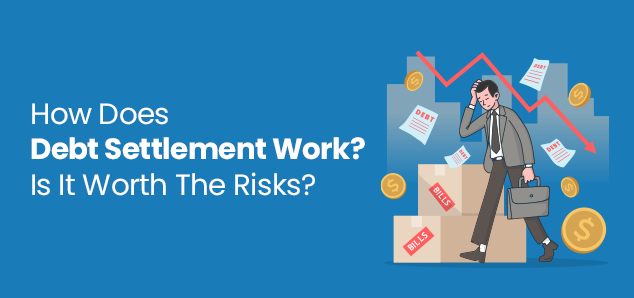 Based on age, average Americans are coming under varied debts. Some are in hundreds and some in the thousands. According to the Federal Reserve Bank of New York report 2019, the number of Americans having a hard time keeping up with debt payments is increasing. If you are looking for a solution then must consider debt settlement. It is the process of negotiating a less payment than what you currently owe. This option did not work for all because all creditors won't agree with this. Debt Consultation is here describing how debt settlement works? and which one is right for you?
What is debt settlement?
When does a person think about debt settlement? It is the time when you are struggling with overdue debt, right? Now again the question will arise whether debt settlement is the right way to take care of your debt or not. You should go for a third-party settlement company or settle the debt on your own.
Debt settlement is basically a process where you will go for debt negotiation. It means you are wiping out your debt by paying a portion of it in one lump sum. Originally the sum was much less than what you owed.
It is a win-win situation for both the creditor and borrower. For the borrower, it is a financial relief that helps to rebuild the credit. Debt settlement for the creditors is to receive at least something rather than nothing.
Basically, debt settlement includes the money you owe to credit card issuers, rather than other types of debt. However, you can settle other unsecured debt in it as well.
How does debt settlement work?
If you are hiring a company like Debt Consultation then the process will be a little different from taking a DIY approach. Here is the process:
Debt settlement company research

: The legitimate debt settlement companies are following industry regulations that are designed to protect consumers and their money.

Proceed carefully:

When a company promises you certain results, be cautious about that. Sometimes they can't guarantee that a creditor will agree to a debt settlement. You need to do some research here. Check the websites of your better business bureau, check with the state attorney general's office, and with the Consumer Financial Protection Bureau(CFPB) or any other consumer protection agencies.

Be sure of the charges:

When you are dealing with a debt settlement company, you must check what the charges are. Because most companies are charging a 15% to 25% fee to manage your debt. It can be a percentage of the original debt amount or a percentage of your agreed amount. Suppose you have the debt of $10,000 and it is settled for 50% then it will be $5000. So, you need to pay another $750 to $1250 on $5000 to the company.

Review your budget:

When you are dealing with a debt settlement company, then you have to open a special savings account for 24 months or longer till the debt is completely settled. This account payment will go toward the lump-sum settlement of your debt. However, in some cases the borrower finds it hard to keep up with the payments. In such a case the borrower might give up on the settlement agreement before all or some of the cleared debts. Therefore before entering into this procedure do a review of your finances to check whether you are able to afford debt payments for 24 months or more.

Ensure the timetable:

Approximately the debt settlement procedure will take two to four years to complete. Over this time you may pile up with the creditor's interest and fees charged. Things won't end here, you have to look for the fees charged by the debt settlement company. Often debt settlement companies suggest you stop making payments to your creditors till the time you are working with them. Here you can shift your money to a special savings account. However, be aware of getting sued or contacted by debt collectors as you are halting your creditor's payments.

Go on Detailing:

When you start working with a debt settlement company like Debt Consultation, make sure you are pretty sure about the timetable and the fees or charges. Ensure how many of your initial payments will go toward the company's fees and how much you will end up paying overtime.

Don't forget the Tax Consequences:

If any forgiven debt exceeds over $600 then it will be reviewed by the IRS. Therefore suppose if you are settling a $10,000 debt or $5, 000 then the forgiven amount is going to be taxed.
Before entering into an agreement with a debt settlement company, be sure that the debt you want to settle is meeting the eligibility criteria of settlement or not.
Is Debt Settlement worth it?
It is a fact that there are some drawbacks to debt settlement procedures. However, there are some financial situations that can make it a good debt relief option. Mostly a large amount creditors are approving it as a good solution. Instead of not paying anything, if the borrower is agreeing to pay half of the amount then it is worth considering for them. However, you need to verify the pros and cons simultaneously before entering into the agreement.
Debt Settlement Benefits:
Gain with reduced balance, sometimes you owed balance decreased up to 50%

It is a better solution to avoid bankruptcy for those who are ready to pay the settlement amount

Stop all calls to agencies and debt collectors once the debt is paid off
Debt Settlement Risks:
High fee charges: A heavy amount from your settlement amount could be wiped out of the debt settlement company's pocket by the time fees and future interest added to the total payment.
Credit score reduction: If you are not already delinquent on your accounts, you will divert debt payment toward the settlement account. The delinquent accounts and debt charged off by the lender stay on your credit reports for a minimum of seven years.
No guaranteed success: There is no guarantee that the creditor will agree to the settlement. And now you may push yourself toward bankruptcy.
The forgiven debt is taxable: Don't relax when your debt is settled for less. You may have to pay taxes on the difference between what you owe and what you are going to pay back.
So after knowing how debt settlement works you can come to know its benefits and risks. Now you may think about whether it is a good option or not. Frankly speaking, it is not the best idea to deal with your debts but for some creditors and debtors, it works amazingly. So evaluate your options before going for a debt settlement. If still, you are in confusion then go for a free consultation with experts at Debt Consultation to know about other options also. The experts will give you the best solution.
---