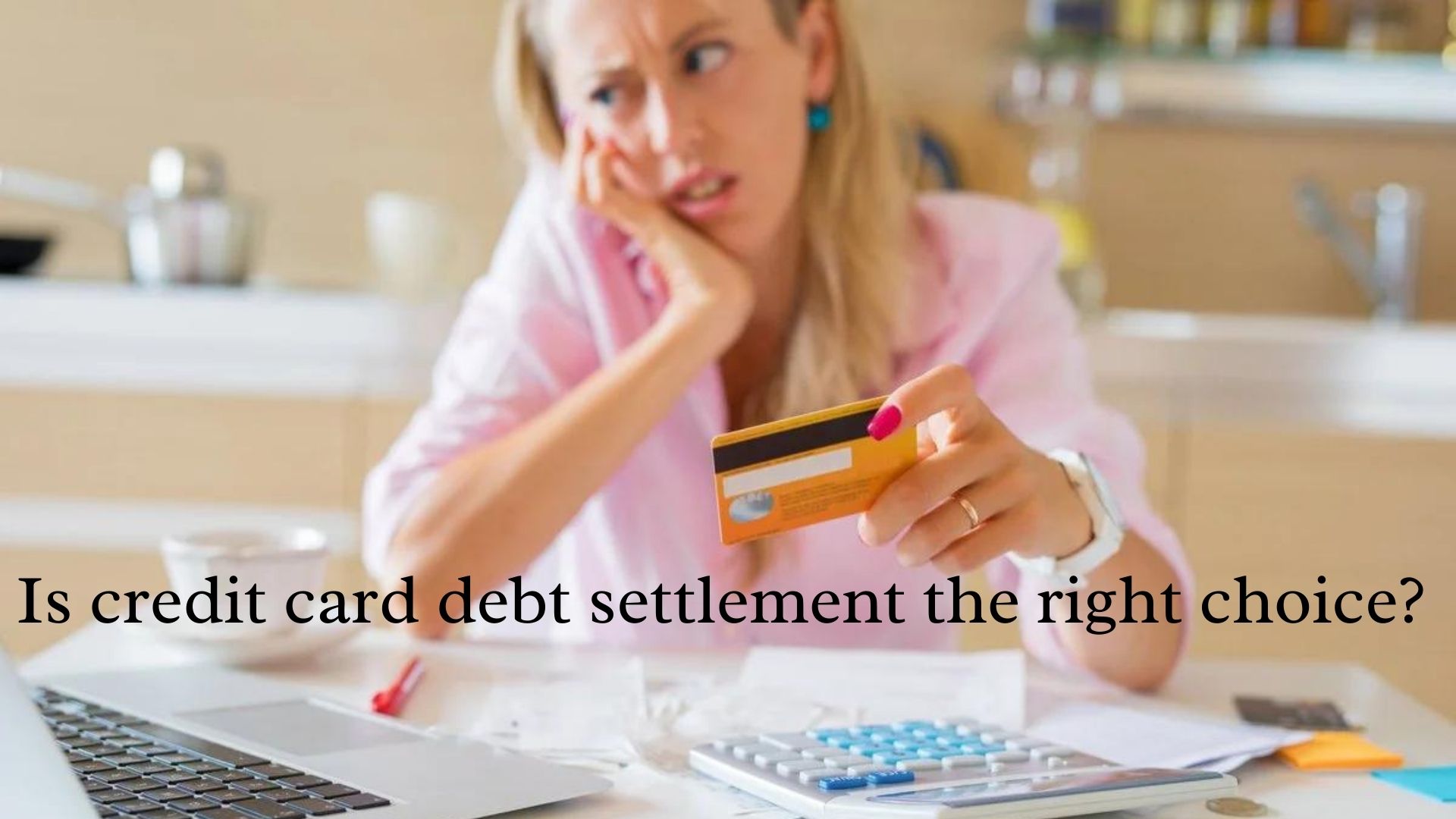 Today's generation is very much dependent on credit cards. The benefits and services are attracting everyone. Credit cards come with fraud protection benefits and with attractive rewards. No wonder the average American's wallet is filled with a maximum of 3 to 4 credit cards. However, benefits when it shows its side effects as debt, and when it grows out of control, can cause serious problems in one's financial life.
When you are drowning in credit card debt, wish for a solution to come out stress-free. In the financial world, you will find a wide range of solutions. Debt Consultation firm is offering debt settlement solutions. Here you have to pay less than the full amount you owe to your card issuer and the issuer will forgive the rest if possible. In this debt relief procedure, you may get excited about the solution but before jumping to it Debt Consultation is suggesting you examine the debt settlement process in detail. So that you can consider the potential consequences of legally settling accounts for less than you owe. It will help to decide whether this process is right for you or not.
Debt Settlement is the procedure where when you open a credit card account, you are agreeing to repay the money you borrow along with interest and fees.
Credit card debt settlement is an arrangement, where you have to pay less in comparison to your actual amount as per the agreement. For instance, you owed $4000 from a credit card company with interest and fees. Your card issuer agrees to accept only $2000 and consider it a satisfying amount and call it settled.
Want to know how debt settlement works?
Mostly, a creditor will never agree to a settlement offer, if you are current on your bill. If you are behind on payment then the creditor may consider the things. Therefore rather than risking the loss of its full investment, the creditor agrees to recover his minimum possible money with a partial settlement.
Three ways of negotiation for your debt settlement:
A creditor may reach out with an offer to settle your past-due account with less than you owe

A collection agency will reach out with a debt settlement offer

You will connect to a debt settlement company like Debt Consultation and let the company resolve your delinquent debt for less than your original balance
You can manage the negotiation yourself if you are aware of all the financial terms and conditions or you can take the help of any debt relief firm. A professional debt settlement company will negotiate on our behalf.
How can you manage debt settlement yourself?


Here are some tips if you want to negotiate on your own:
Debt negotiations work only when you pay a lump-sum settlement. Save your money in advance to build a better bargaining position at the time of making your offer. To build your debt settlement fun faster you can take the help of tax refunds bonuses along with other influxes.
Your goals and creditors/ debt collection agency goals are simply juxtaposed. You want to save as much as you can whereas at the same time your creditor or debt collector will try their best to collect every single penny.
Get ready for some back and forth. If you are planning for multiple debts then try to keep yourself low with your offer. For instance, at the first offer pay 30 to 40% of your balance. Though you can afford to pay a little more, it still stay low. Don't get nervous or afraid to turn down an offer and call back later.
When you can afford to settle as per the agreement, get the offer in writing. Don't share your bank details or other payment information before receiving any written settlement-in-full agreement in hand.
If you get success in your Do-It-Yourself debt settlement then you can save your money in the long run. Another best thing is as you are managing everything yourself, you won't have any extra fees that a debt settlement company would charge you.
How does a Debt settlement company work for you?
Debt settlement companies like Debt Consultation will negotiate with creditors and collection agencies on your behalf. However, before hiring a company consider a few things:
Hiring a debt settlement company could be an expensive affair. Companies may charge some percentages to negotiate debts on your behalf with the creditors or debt collectors. The percentage can be 20% or more than it, depending upon the total balance of your debt.
Don't expect a short-term solution. The debt settlement process can take years. You can either deposit a large sum into the debt settlement company's escrow account or have to add little money every month, which is called a "war chest". It can use to negotiate with the creditors.
The debt settlement company may tell you to stop paying your creditors. It is a fact that creditors won't accept a lower settlement offer unless your account is delinquent. However, if you stop paying creditors, then there is a high possibility that you may damage your credit rating. And at the same time, your balances may climb up to high risk due to late fees and penalty charges.
The debt settlement company can't guarantee to settle your accounts for less. Though you are working with an experienced debt settlement professional, still there are chances your creditor won't agree to the debt settlement.
Never fall on the debt settlement scams. There are debt settlement companies that charge upfront fees. When a debt settlement company promises you to settle your debts or wipe out your debts 100% then there is a big no-no for this company. Just turn back from there.
A good or legitimate company will never promise you anything. They can assure you of better negotiations, and work for better deals but they won't promise you any guarantee for it. So always choose a professional company like Debt Consultation to save your time and money. The best thing about a legitimate company like Debt Consultation is that they will even provide free consultation services for you. You can take free help from experts to understand everything about your debt. They can guide you on how to become debt-free. Experts will suggest to you possible debt-free solutions as per your budget and debts.
Settling your credit card debt may benefit you:
Help to save a good amount of credit card balances. You can save up to 50% even after settling up
Your debt settlement will protect you from the harassment of debt collectors and creditors
Protect you from legal sues, annoying collection calls, and mails
Help to avoid filing bankruptcy
What can go wrong with your debt settlement?
Along with benefits you also find drawbacks simultaneously in debt settlement. So have a look at those:
Can't cross the debt settlement limitations:
The settlement procedure is an effective strategy for certain types of unsecured debt, such as if you want to resolve medical bills, delinquent credit cards, and other collection accounts via the debt settlement method. However, it won't work effectively on your late auto loan or mortgage payment. The creditor can seize your collateral and even sell it to collect the losses. Student loans cannot be resolved through debt settlement. Your lender can only offer hardship programs or rehabilitation instead of settlement.
Debt settlement can be pricey:
As per traditional debt settlement, making big payments to a creditor are possible with a debt settlement solution. In exchange for such a lump sum payment, the creditors used to accept less than you owe to satisfy your debt. However, every time it is not possible. Coming up with this kind of money is not possible in a quicker manner. First, if you had access to large amounts of cash you should try not to be left behind on your bills in the first place.
The credit rate could be affected
Settling debt is not always exciting, it could have a negative impact on your credit reports and scores in a few different ways. Sometimes your debt management company could advise you to stop making payments and later this could hurt your credit scores. However, keep in mind that a creditor generally won't accept less than you owe if your bill is current.
After debt settlement, when your creditor settled it, notify it as
"settled for less than the full balance". This notification is bad for your credit score. You were already damaged with negative credit history as per your previous late payments and the debt settlement only adds more negative impact on it.
There is the possibility that when you settle for less your credit card company may opt to close your account. Now a new credit card closure only increases your credit utilization ratio and often gives a bag sign for your credit score.
Stuck with extra tax payments:
When you go for debt settlement, the creditor forgives your original amount and agrees to a smaller amount. For instance, you have owed $5000 and settled your amount to $2500. Your creditor forgives another half of the original amount. Now as per the rule if a creditor forgives more than $600 in debt, then the IRS may send you a cancellation of debt notice. Here you will have to add the amount of forgiven debt to your tax return as "other income".
At some point, IRS can help in this matter. If your liabilities are higher than your yearly income then your tax preparer may suggest you fill out IRS for 982, which says the reduction of tax attributes due to discharge of indebtedness.
Final Touch
Before concluding the article, it is wise to reach out to your creditor before you miss a payment to learn if hardship relief is available. Even if your creditor offers a hardship program it may include some unpleasant side effects such as negative credit reporting or account closure. Therefore must be aware of all the things before you move forward
Manage your finances with Debt Consultation
At Debt Consultation, our licensed team strives to make saving and budgeting easy for you. Our team helps to negotiate on your behalf with your creditors and debt collector agency and try to solve the matter. We only charge once everything falls as per your satisfaction. Our experts will provide a free consultation to manage your finances along with giving advice to solve your debt in a better and possible way.
---