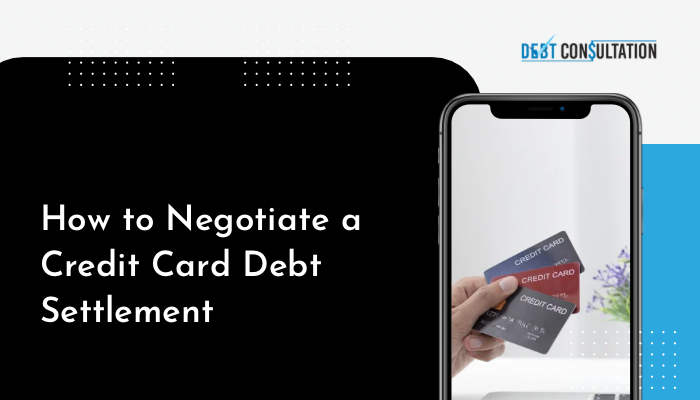 With an average credit card load of $5,315, Americans are buried under credit card debt, according to Experian. In 2020, the average credit utilization the proportion of available credit that consumers actually use was 25.3%, the lowest level in ten years.
If you rely on credit cards to get by, you might believe that you will never be able to pay off your debt. If you can't pay off your credit card debt, though, you could still have options. You could try to work out a deal with your credit card company to reduce your debt and find the Best Way to Negotiate a Credit Card Debt Settlement. This can assist in getting you back on track and preventing further harm to your credit record.
How to Negotiate a Credit Card Debt Settlement
You can pay off credit cards for less than what you owe by using credit card settlement, a sort of debt negotiation. Although you might be able to negotiate hardship choices or lower interest rates on your own, this is normally done through a third-party organisation. You will be responsible for submitting payments to the agency when you work with a debt settlement company, and there may be additional costs associated with the service.
The advantages of credit card settlement are obvious: You might be able to pay off your debts more rapidly without having to shoulder the full burden. But, debt settlement would probably lower your credit score, and you might later face tax repercussions as a result. You can be taxed on the $5,000 difference if you settle a debt for $10,000 instead of $15,000.
How to Decide Whether or Not to Negotiate Your Debt
Consider a few criteria first if you have credit card debt and want to settle it with the credit card company. Start by looking into several possibilities, such as bankruptcy or credit counselling. You could find that one of those works better for your particular circumstance.
The credit card company might not be willing to engage in debt settlement if you are not already several months behind on your payments, so you might need to think about other choices. Also, the credit card company will check to see if you have the resources to cover any settlement. It can take the form of a lump payout or regular monthly cash flow sufficient to cover your settlement commitments.
How to Make Credit Card Debt Payments
It can be difficult to negotiate with credit card issuers because many of them are unlikely to adjust their terms unless they are concerned that you could declare bankruptcy. It is vital to come prepared to negotiate, regardless of whether you decide to negotiate credit card debt on your own or hire a professional to represent you. Start with the next actions:
Verify the amount you owe :- Check your account balance online or give your card issuer a call to learn your current balance prior to starting a credit card negotiation. It's a good idea to confirm your account's current interest rate as well.
Examine your choices :- Choose which option makes the most sense for your situation: a lump cash settlement, a hardship arrangement, or a workout agreement.
Give your credit card company a call:- Call your credit card company and ask to talk with the debt settlement, loss mitigation, or hardship department if you've made the decision to undertake discussions on your own.
A regular customer care representative won't have the authority to approve your request. Once you've made contact with someone who can help you in a negotiation, describe your problem and provide your offer. Be respectful but forceful.
Set forth your terms:- Tell the card issuer that you'd prefer to resolve your debt directly and that you're thinking about going bankrupt or employing a debt relief expert. Be ready for the card company to potentially freeze your credit limit at this time or cancel your account.
Make thorough notes and, if necessary, follow up. Although some states require you to inform the card issuer that you are recording the call and vice versa, you can choose to do so if you'd like. If you're not content with the terms being offered, don't be hesitant to ask for a supervisor or to call back several times during the ensuing days and weeks.
Get a written agreement :- Ask for documentation if the card issuer accepts a settlement or arrangement that you are comfortable with. A deal is not final until it is put in writing.
Getting help with credit card debt :- If you're drowning in credit card debt, hiring a professional to represent you can be beneficial. Debt settlement firms and credit counsellors are generally the two sorts of businesses that may be able to negotiate on your behalf with credit card companies.
Debt Settlement Companies
Companies that specialise in debt settlement will attempt to bargain lump-sum settlements with your creditors on your behalf. In order to establish your account, you often cease paying your creditors and instead begin transferring money to your debt settlement business each month.
The business will phone your card issuer and make an offer to settle the debt for less than you owe once your account with them has grown sufficiently substantial. The debt settlement company transfers the money to your creditor and keeps a portion of the proceeds if the bank accepts the offer.
Debt settlement companies may be able to save you time and money, but there may be drawbacks to this strategy. First off, if you cease making payments to your credit card provider, they will notify the credit bureaus of your late payments. Eventually, the account might be written off, sold to a collection agency, or worse. All of these acts could have detrimental effects on your credit. However, there is no assurance that your bank will be open to negotiations.
Also, you should be aware that debt settlement firms are not inexpensive. When they negotiate a debt, these businesses often take a cut of the money you save. You can wind up spending thousands of dollars on debt settlement services in the end.
---