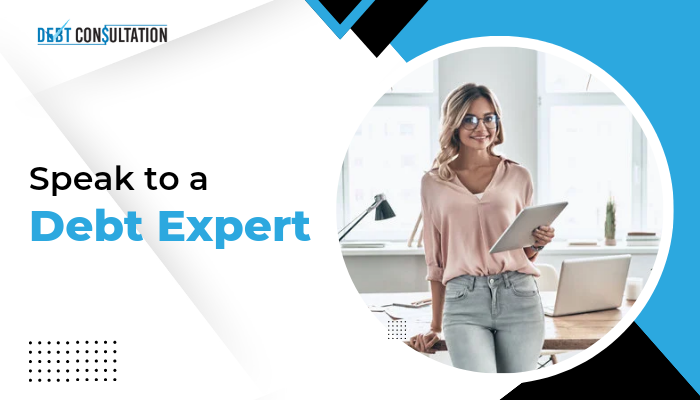 Concerned about debt? Instead of seeing a psychologist, seek out qualified assistance. A skilled debt expert may cure your financial problems in the same way that a doctor can cure physical diseases.
Debt specialists behave in the same way as any dependable advisor. They listen to your financial concerns and offer suggestions on how to budget more wisely so you can manage your debt on an affordable basis.
The ultimate objective is to improve your credit score and make it possible for you to live debt-free. Are you looking to speak to a debt advisor? First let us help you know about debt advisor.
What is a Debt Advisor?
These professionals, also referred to as debt counsellors, money consultants, and financial advisers, assist debt-stricken individuals. They give guidance on how to deal with the effects of debt and assist their clients in finding solutions to repay debt affordably.
When and How to Talk to a Debt Expert
To speak to a debt specialist, you don't necessarily need to be deeply in debt. Even if you feel comfortable with your debt load and are making your payments on time each month, you can still gain from professional assistance.
The main goal is to assist you in keeping a manageable budget to prevent major debt accumulation. Everyone could benefit from that service at some point in their lives. Call to a debt specialist for resolving the debt issues.
But there are a few warning signs that suggest it might be time to speak with a debt expert:
You are slipping more behind on your payments because you are unable to make the credit card minimum payments each month.
The credit limitations on your credit cards are at their maximum.
Calls from debt collection companies are relentless.
With the exception of your house and auto loan payments, your overall debt
payments fall between one-quarter and one-half of your gross income.
Can a Debt Expert Help You?
A debt expert will work with you to develop a systematic financial plan to pay off your obligations, regardless of where you go for help (such as credit counselling, a debt settlement firm, etc.). You can create a budget to pay off your debt each month by working with a professional.
Each type of debt relief will start with a consultation, and if you desire, there will also be set follow-up appointments. You will frequently be given free workshops and educational resources by certain third-party businesses. Additionally, merely consulting a debt expert has no detrimental effects on your credit score.
How to pick a Debt Expert
When choosing a firm to deal with as your choice for debt relief, you should search for a trustworthy company with a track record of success. Do the following before selecting a debt relief business:
Verify the qualifications of the business:- To find out if the business is legitimate, check with the International Association of Professional Debt Arbitrators first. Additionally, get in touch with the Better Business Bureau, the local consumer protection agency, and the attorney general of your state to find out if any complaints have been made about the organisation.
Inquire about costs:- Compare prices to find the best deal. Watch out for businesses that advertise "voluntary" fees before pressuring you to pay them. An organisation that offers debt reduction services with integrity is open and honest about its fees.
Examine the products and services the business offers:- A reputable debt relief business provides a range of debt-relieving services. Consider it a warning sign and look into other choices if the company only offers you one option for debt relief.
Ask about the credentials of the debt specialist:- You want to work with a business that has been certified by an independent organisation. Ask about their education and experience for the position if their specialists haven't been granted accreditation by a reputable outside agency. Moreover, find out how and for what services the debt management specialists are paid.
Do they get paid a set price or extra money if they get you signed up for more services? Debt advisors may have an additional motivation to promote that service because they occasionally receive a commission for enrolling you in a debt relief programme.
Make sure of the security of your financial information:- Since you'll be providing the expert with sensitive financial information, you should ask the organisation not to share or sell such information to a third party without your consent.
Get it down on paper:- Any verbal pledges should be put in writing. Before signing any written agreement, make sure you read it thoroughly.
Avoid being sold too hard:- Walk away if the company is adamantly promoting a debt relief plan as your only choice or any "get out of debt fast" programme.
It takes a lot of time, discipline, and effort to get out of debt. Those who are in debt or who simply want some financial guidance may find it beneficial to seek outside assistance.
Rundown
It is difficult to manage the debt issues. When it comes to money there are a lot of financial burdens going around—be it on the individual level or at the company level. Go for the best option when you are looking for the debt issues to get resolved.
At Debt Consultation, we provide the best recommendations and suggestions for solving your debt issues. Speak to a Debt Advisor today!
---